only available at the Official Barcelona website.




The story of FC Barcelona, or Barca, the world's biggest football club. Jimmy Burns has unearthed police files and newspaper reports. He travelled with supporters and talked to managers, players, groundsmen and doctors, as well as those who have conspired to gain political and financial control.




With photographs by Jon Nicholson and text by Jeff King, these tales from the Nou Camp celebrate the events of FC Barcelona\\\'s centenary year. Looking at its present day fortunes, but paying much attention to its history, the club has had a pivotal role in the development of 20th century Catalonia and its cultural life.




This portrait of Johan Cruyff draws on numerous interviews conducted by the authors between the years of 1974 and 1997. In these interviews Cruyff talks about how he learnt his trade and what it was like to play football for Barcelona and Ajax, two of the world 's greatest club sides. He also talks about the philosophy behind "total football", the driving force behind the great Dutch side of the 1970s, and a style of football many teams attempt to emulate today. Cruyff also enjoyed eight years of success as manager of Barcelona before returning to Ajax, where, with his emphasis on youth and home-grown talent, he put together a team of great ability.




This is a biography of Bobby Robson, former England manager, and manager of Barcelona. The book aims to cover every area of Robson's time in his first year in charge of Barcelona - dealing with fanatical fans, the Spanish media, his striker Ronaldo, and the challenge of Atletico Madrid.




In this candid autobiography, Bobby reveals how he cheated death to continue the passion of his life. He discloses not only how he discovered Ronaldo, the most expensive player in the world, and what it was like to manage Gascoigne and Lineker in their glory years but also how he survived cancer twice to continue his successful managing career in Europe. Cancer did not prevent Robson managing PSV Eindhoven, winning over the sceptical Dutch, before going on to Barcelona (at the third time of asking). The club won three trophies, only for Bobby to be displaced due to political wrangling.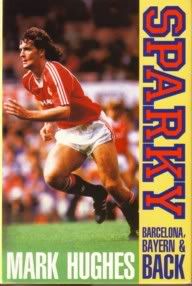 The autobiography of Mark Hughes, one of the most exciting and acrobatic strikers in football today. For Hughes success came young, in his early 20s, when he was playing for Manchester United while being sought after by Barcelona. Yet there is also another side to the coin that involves the doubts and insecurity, the problems of playing abroad, the pressures of being in the media spotlight and of playing for a team expected to win. This book tells of his experiences, his drinking problems, as well as his stays in both Barcelona and Munich. He talks of his pride when he played for Wales, his return to Manchester United and of the personalities he has known.